"Arab and Japanese Cinemas: A History of Interactions"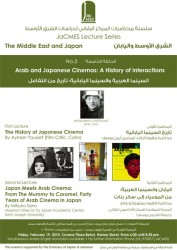 | | |
| --- | --- |
| Date / Time | Friday, February 19, 2010. 18:00-20:30 |
| Venue | Crowne Plaza Beirut, Hamra Street |
Program
18:00-18:05
Welcome Remarks by Hidemitsu Kuroki (Head, Japan Center for Middle Eastern Studies)
18:05-18:50

First Lecture

"The History of Japanese Cinema" (in Arabic) by Ayman Youssef (Film Critic, Cairo)
18:50-19:05
Coffee Break
19:05-19:50

Second Lecture

"Japan Meets Arab Cinema: From 'The Mummy' to 'Caramel,' Forty Years of Arab Cinema in Japan" (in English)
by Mitsuko Sano (Assistant Director of Japan Academic Center, Saint-Joseph University)
19:50-20:30
Questions and Answers
* Simultaneous Arabic-English translation available.
* A cocktail Party will follow the lecture for further informal discussions.
* This event is supported by Embassy of Japan in Lebanon.
For further information: Phone (01) 975851 (JaCMES)
Summaries of the lectures:

1. "The History of Japanese Cinema"
Japan is one of the major and oldest countries that knew and made cinema. The Lumière brothers' amazing film projector, cinematograph, was presented for the first time in Japan in 1897. By reviewing new trends in Japanese cinema, young directors and scenes of their works, this lecture will examine the history of Japanese cinema since its inception until today. The lecture also touches on mutual influences between Japanese and Egyptian cinemas.
2. "Japan Meets Arab Cinema: From 'The Mummy' to 'Caramel,' Forty Years of Arab Cinema in Japan"
How have Japanese people seen and accepted Arab Cinema?
The history of Arab Cinema in Japan started in 1974 when an Egyptian film "The Mummy" (al-mumiya') was released for the first time at a small art theater in Tokyo. Since then Arabic films had been sporadically introduced to Japan although the number was modest. However a turning point came after 9/11 events in U.S. Amid mounting international concern over the Arabic region, Arabic films started to get more attention in Japan. For example International film festivals in Japan such as Tokyo Filmex and Tokyo International Film festival have begun to screen Arabic films almost every year. Japan Foundation too organized Arab Film Festival in Tokyo from 2005 to 2008. Moreover two Palestinian films, "Divine Intervention" (Yadun Ilahiya) by Elia Suleiman, "Paradise Now" (Al-Janna Al-Aan) by Hani Hany Abu-Assad, and a Lebanese film "Caramel" (Sukkar Banat) by Nadine Labaki, were distributed commercially.
This lecture will explore the 40 years of Arab Cinema in Japan chronologically examining the reaction of the media and the people, and also will introduce an extremely rare old Japanese film "Storm of the Arab" (Arabu no Arashi) shot in Egypt collaborated with Egyptian famous actors.
Introduction of the two lecturers:

1) Ayman Youssef is a freelance film critic, writer, lecturer and TV compiler of Egypt. He has served as a jury member for seven international film festivals and has contributed articles and columns to the most circulated and respected media in Egypt and other Arab countries, including Al-Hayat International, for the past twenty years. His publication includes two books on Japanese cinema, "Dialogue with Modern Japanese Cinema" and "Japanese Cinema of 1990s" (both in Arabic) in addition to bulletins issued by Cairo International Film Festival. He has visited Japan several times for research on Japanese cinema.
2) Mitsuko Sano, a Japanese researcher of Arab Cinema History, works as Assistant Director for Japan Academic Center (CAJAP), Saint-Joseph University of Beirut. She organized "Real/Arab Film Festival" (2005) as a director and worked for "Arab Film Festival in Tokyo" (Japan Foundation, 2005- 2008) as a planning adviser. She has published catalogs and articles including "Arab Film Festival in Tokyo Official Catalog" (2005-2008); "Egyptian National Actress; Fatin Hamama and Souad Hosny" for Ochi-Kochi, Japan Foundation (2008); "Women's drama dedicated to the painful and sweet life" for a Lebanese film "Caramel" Official Catalog in Japan (2009).