"Without Stopover for Transit:Direct Exchange between Arabic and Japanese Literatures"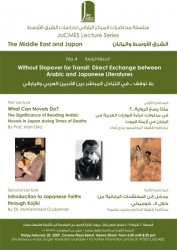 | | |
| --- | --- |
| Date / Time | Friday, February 20, 2009. 18:00-20:30 |
| Venue | Crowne Plaza, Hamra Street |
| Language | Arabic and English (simultaneous interpretation available) |
| For further Information | 01-975851 (JaCMES) |
Program
18:00-18:05
Welcome Address: Prof. Hidemitsu Kuroki (Director, JaCMES)
18:05-18:45
Lecture 1: Prof. Mari Oka
"What Can Novels Do? The Significance of Reading Arabic Novels in Japan during Times of Deaths"
18:45-19:05
Discussion
19:05-19:20
Coffee Break
19:20-20:00
Lecture 2: Dr. Mohammed Oudaimah
"Introduction to Japanese Faiths through Kojiki"
20:00-20:20
Discussion
Lecture 1

"What Can Novels Do? The Significance of Reading Arabic Novels in Japan during Times of Deaths"
By Mari Oka
Prof. Mari Oka, one of leading Japanese scholars in the field of modern Arabic literature, teaches at Kyoto University. Her publication includes Arab: Literature as Prayers (2008), In the Shadow of Palm Trees: The Third World Feminism and the Strength of the Literature (2006), both in Japanese, and translation of Ghassan Kanafani's works such as Returning to Haifa.
Summary:
"What can literature do when hundreds of thousand children are starving to death in Africa?" is the famous question raised by Jean-Paul Sartre in 1960′s. He said that "Nausea" is powerless in front of those starving children. The same old question has been lingering in me since the second Intifada broke out. What can we do through novels when the Palestinians are being killed every day just as if their lives have no significance as human beings? Is there any meaning in reading Arabic novels in Japan when the very people in the Arab world are being killed? What is the meaning of being a translator of Arabic literature when death and violence rule these people's lives? To go further, why do we write and read novels in the first place? For what purpose and for whom? I have been struggling with those questions for these past eight years while reading Arabic novels and have finally found the answer. Now, I can say reading novels is equivalent to living others' lives as our own experiences. Through reading novels, strange lands and unfamiliar people soon become part of our own intimate world. Reading novels changes our relationship with the world, which might be a small but significant step to changing the world itself. By introducing the trend of modern Arabic literature studies in Japan since 1970s, I will explore the possibility of establishing communality which Arab and Japanese readers may share by reading Arabic novels during times of death.

Lecture 2

"Introduction to Japanese Faiths through Kojiki"
By Mohammed Oudaimah
Dr. Mohammed Oudaimah, Arab poet and translater living in Japan, teaches Arabic and Arabic Literature at several universities including The University of Tokyo. His voluminous publications include What Occuurred in Cinema (1993, poets), The Kojiki: The Record of Ancient Events (1999, translation), and A Handful of Sand: Selected Poets of Takuboku Ishikawa (2007, translation) (all in Arabic).
Summary:
This lecture aims to approach Japanese beliefs based on what is written in the book Kojiki (The Record of Ancient Events), which contains the creation history of Japan (or the Universe) and the resultant events. This story is similar to that of Lucifer and Adam with God in monotheist religions. In this story different deities order two gods, a male and a female, to get married in order to give birth to the Japanese islands (while the deities watch). The wife passed away because of the numerous births and went to the underworld where the spirits reside. However, after a while, her husband missed her and followed her, asking her to come back to give birth to the other children. But she couldn't. According to the story, the husband returned and purified himself in the river water to get rid of the traces of the underworld. His acts led to the birth of three gods: The goddess Amaterasu (the sun) was born when he washed his left eye, then the god of the Moon was born when he washed his right eye, and the god Susanoo(Hayasusano) was born when he washed his nose. Afterwards, he gave them their role in the governing the world: Heaven went to Amaterasu, night to the moon, and the sea to Susanoo. Each began to work except Susanoo who continued to cry because he missed his mother. His father became angry and banished him. But before departing, he wanted to say goodbye to his sister at her home. Amaterasu had doubts about her brother's intention so he proposed a test that would reveal his intentions and considered himself the winner. He wanted to make this victory last forever, so he spread corruption throughout his sister's home. Amaterasu got scared and retired to a grotto in heaven and thus the Universe went dark. Millions of gods got her out of her shelter (signaling the return of light) and decided to punish Susanoo and exile him to Izumo, which is earth.
Would it be possible to draw a comparison between Susanoo's character in this story and Lucifer who refused to fulfill God's order and was banished by him, or with Adam who did wrong when he forgot God's orders? This lecture tries to answer this question partially.