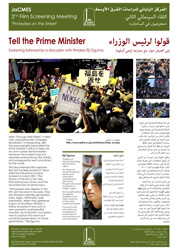 Date / Time
13 March 2017 (Mon.) 19:00-21:40
(Doors open at 18:30)
Venue
Metropolis Empire Sofil (Ashrafyeh, Sofil Centre Sofil, Ground floor) , Beirut, Lebanon
Language
English
Organized by
The Japan Center for Middle Eastern Studies (JaCMES),
Core Project "Political, Social and Cultural Polarization and its Backgrounds in the Middle East and the Muslim World"
Admission:Free, No pre-registration is needed.
Film title: Tell the Prime Minister

Direction, Production, English Subtitles: Eiji OGUMA
Shooting, Editing: Syunichi ISHIZAKI / Music: Jinta-Ra-Muta / Proof Reading of English Subtitles: Damon Farry
(2015 / Japan / 109min / Japanese [English Subtitled])
Discussion and Q & A will follow the screening.