"A Beirut-Kyoto Connection: The Case for Mapping the Global Nahda"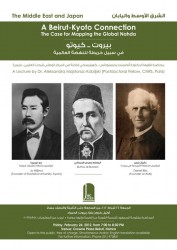 | | |
| --- | --- |
| Date / Time | 24 February 2012 (Fri.) 19:00-20:30 |
| Venue | Crowne Plaza Beirut |
| Language | Arabic and English (simultaneous interpretation available) |
| Organized by | Japan Center for Middle Eastern Studies(JaCMES) |
| For further information | Phone : +961-(0)1-975851 (JaCMES) |
Summary

Nineteenth was a century of reforms and national self-strengthening. Each nation believed its situation unique and the changes it was going through sweeping, but paid attention to events beyond its borders. As early as the 1880s, Ottoman empire and Japan kept an eye on each other, realizing that in many ways they were doing the same things at the same time; painfully reinventing themselves as modern polities. And it was not always Tokyo that served as a model to Constantinople. Speaking in 1890, Japanese academic and later parliamentarian Kato Hiroyuki, reminded that Japan was following in Ottoman footsteps as the second nation in Asia to establish a constitutional government.
This lecture examines a moment when the history of an Ottoman port city infused by the impulse of reform and revival, connected to that of Japan's former imperial capital. It traces how the opening of Butros al-Bustani's Madrasa Wataniyya in 1862 stimulated the founding of the Syrian Protestant College in 1866 (now AUB) and in turn enabled a young Japanese pastor to open a similar school in Kyoto in 1875 (now Dōshisha University). By examining a particular example of 19th century connectivity, this lecture suggests the outlines of nahda as a global phenomenon.
Short Bio of the lecturer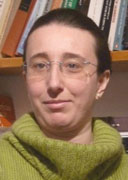 Aleksandra Majstorac-Kobiljski is a postdoctoral fellow at the Centre national de recherche scientifique, Paris France. Her forthcoming book – Learning to Be Modern – analyses the genesis and the connected history of the American University of Beirut and Dôshisha University in Kyoto. It weaves together the histories of Ottoman Beirut, Meiji Kyoto, and the post-Civil War Boston to bring into relief the intersection of the missionary agenda and local reform drives and illuminate the nineteenth-century global reform platform to which all three belonged.